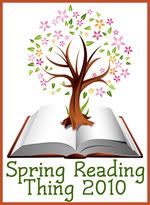 The always cheerful Callapidder Days blog is once again hosting the Spring Reading Thing. I participated in the Fall Reading Challenge and while I didn't read all the books on my list, it was definitely a good exercise and liberated me from a bunch of books that, it became apparent, I had no interest in reading.

Here's the skinny on the whole affair, taken directly from Callapidder Days:

Essentially, Spring Reading Thing 2010 is a fun, low-pressure reading challenge open to anyone and everyone. It will take place March 20th-June 20th (which is, not-so-coincidentally, the spring of 2010).
To participate, here's what you need to do:
Create a list of some books you'd like to read or finish this spring.
Feel free to set some additional reading goals (such as reading to your kids two hours per week, getting through your pile of magazines, etc.). This is completely optional.
Write a blog post including the list of books you want to read and any additional goals you've set, and get ready to post it on your blog on March 20th.
Visit my blog on March 20th to sign up. I'll have a Mr. Linky set up that morning, so you can submit a link to your personal Spring Reading Thing post, and it will be added to the master list.
Read! Work on your goals throughout Spring 2010.
Report your results. Write another blog post in June to let everyone know how you did.
Have fun! Visit other participants to see what they're reading. Write reviews if you're so inclined. But most of all, enjoy your spring reading.
Okie dokie! Without further ado, here's my game plan for Spring Reading Thing.

My goal this time around is to use this challenge to make some headway on other challenges I've enrolled in so far. I keep a separate file where I'm tracking how I'm doing on certain challenges, and some of them are going well, while others could definitely use a little help. Therefore, my challenge is read the following:

For the Finish That Series Challenge:
Curse the Dawn by Karen Chance
Stay the Night by Lynn Viehl
The Faceless Ones by Derek Landy

For the Poirot-Marple-Holmes Challenge
Death on the Nile by Agatha Christie
The Murder at the Vicarage by Agatha Christie
A Study in Scarlet by Sir Arthur Conan Doyle

For the Dystopian Challenge
Shades of Grey by Jasper Fforde
The Declaration by Gemma Malley
The Resistance by Gemma Malley
The Maze Runner by James Dashner

I'm hoping to get through more of my titles this time so I can add new ones, but I'm thinking this is a good place to start.

If you're interested in participating, head on over to Callapidder Days and sign up! Comment here with a link to your list, I'd love to take a look!