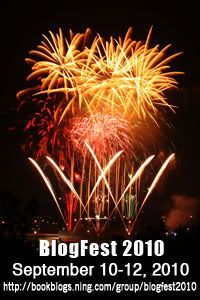 It's finally here! BlogFest 2010 has kicked off and this is my first time participating! I wanted to give away something both fun and exciting that was also available to folks around the world, and here it is:
Yes, the ENTIRE Parasol Protectorate series thus far! There are few things more awesome than steampunk romance mixed with werewolves and vampires, so if you've been wanting to read this series, here's your chance!
This giveaway is open internationally as long as Book Depository ships to your location. Please verify this before entering, thank you!
Otherwise,
leave a comment with your email address
and let the games begin! Remember the whole event ends at 11:59 pm EST on the 12th, so enter away!
When you're done here, why not head over to
http://cynthial11.blogspot.com
>A Blog about Nothing and enter to win another cool prize? Also,
http://ajourneyofbooks.halfzero.net
>A Journey of Books has the master list of giveaways and a neat tracking tool. All you have to do is sign up with an email address and use the tool to make sure you don't miss any cool prizes and then you're entered in a massive giveaway for that too!