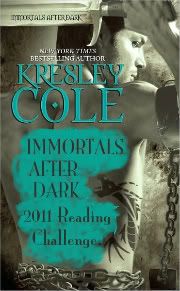 The second challenge I'll be undertaking for 2011 is the Immortals After Dark challenge, hosted by
That's What I'm Talking About!
The goal is simple- to read all 11 published installments in the series throughout 2011 together as a group, beginning with
The Warlord Wants Forever
and continuing throughout the year, with the following being the schedule for the year:
January 21: "The Warlord Wants Forever"
in PLAYING EASY TO GET
February 18: A HUNGER LIKE NO OTHER
March 18: NO REST FOR THE WICKED
April 15: WICKED DEEDS ON A WINTER'S NIGHT
May 20: DARK NEEDS AT NIGHT'S EDGE
June 17: DARK DESIRES AFTER DUSK
July 15: KISS OF A DEMON KING
August 19: "Untouchable" in DEEP KISS OF WINTER
September 16: PLEASURE OF A DARK PRINCE
October 21: DEMON FROM THE DARK
November 18: DREAMS OF A DARK WARRIOR
Easy enough, right? I'm ashamed to admit that I'm really far behind on this series so the opportunity to catch up in the new year is definitely a welcome one.
This is also a good opportunity to share a pretty cool deal for those who need to buy the books! The folks at Pocket Books are offering a digital bundle of three of the books (
A Hunger Like No Other, Wicked Deeds on a Winter's Night, and Pleasure of a Dark Prince
) for $19.95 on a variety of platforms! The picture here goes to Amazon for Kindle folks out there, but the bundle is available from
Simon and Schuster.com
, the Apple
iBookstore
,
Barnes and Noble
, and others as well. Thanks to the folks behind the Pocket After Dark community alerts for the heads up- I'm off to buy my bundle now!