This week promises to be another winner here at What Book is That?. We have an excellent interview, a swag giveaway, reviews, and more!
On Monday, I'll be hosting a stop on the
Hexbound
blog tour, featuring the always entertaining Chloe Neill! This book is on my must read list for 2011, so check back to see the answers to some pretty important questions, namely, how is Chloe going to get out of the castle of doom?
On Tuesday, I'll be reviewing
Motor City Fae
by Cindy Spencer Pape. I had this in my review queue from NetGalley for the longest time and suffice it to say, I'm kicking myself for not reading this book sooner. Check in on Thursday to find out why!
Wednesday is eBites day, and this week's installment has me salivating. Just check out the Samhain Warning:
Contains explicit language, intense action and violence, rampaging zombie hordes, a heroine with an attitude and flamethrower, Special Forces commandos, ninjas, apocalyptic necromancer capitalist machinations, absurd parody and mayhem, self-deluded humor, irreverence, geek humor, mutant cats, low-brow comedy, and banana-kiwi-flavored gelatin.
Drool, drool, drool.
Thursday brings my review of
Nocturne
by Syrie James- thanks to the always awesome Elena for the opportunity to review this book!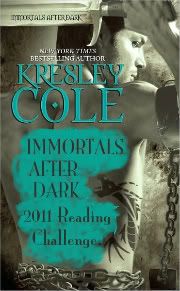 Friday is Illustrated Friday, and this week's offering is absolutely gorgeous. Check back on Friday to find out more. Friday also marks the first installment of the Immortals After Dark 2011 Reading Challenge, where I'll be revisiting
The Warlord Wants Forever
, the first story in the series.
Have a great week everyone!