May is officially a wrap! I was privileged enough to read a lot of good books in May, and with the school year winding down (my class is done on June 17th) I anticipate having many more to come! Even though I am working summer school this year. Then again, extra money means a bigger book budget, so it's still a win for me!
Technically this was a June event, but it certainly bears repeating as far as I'm concerned- the big news here at WBiT? is the announcement of the Declare Your Independence Indie Author Giveaway Carnival!
The carnival announcement post
has all the details, skinny on books that will be reviewed and in many cases given away, as well as the code for the sidebar button! I'd be much obliged to everyone who helped me spread the word about this awesome event!
I was also lucky enough to participate in the Sea Wolves Reading Circle organized by the always fabulous Sasha Soren! If you're looking for spicy books featuring pirates, then
check out my list of recommendations.
May also marks the arrival of BEA, and by extension, Armchair BEA! I had a ton of fun participating this year, and here are my posts for the daily themes:
Armchair BEA Introduction: Two Truths and a Lie
Armchair BEA: The Best of 2011...So Far...
Armchair BEA: Tough Questions for Jenny From Take Me Away
Armchair BEA: Blogging About Blogging
May also brought some really awesome guest posters to WBiT? and I really enjoyed reading and hosting all three authors (please note, all giveaways associated with these guest posts are now closed):
Kit Iwasaki guest post on her journey from pre-med to writing
Jim Bernheimer guest post on why good villains are just as important as good heroes, and also where he lays down the gauntlet to Harry Potter fans everywhere
Bryan Cohen guest post on the need for self-published authors to think of themselves from a marketing perspective
June promises to bring more exciting things, including this baby: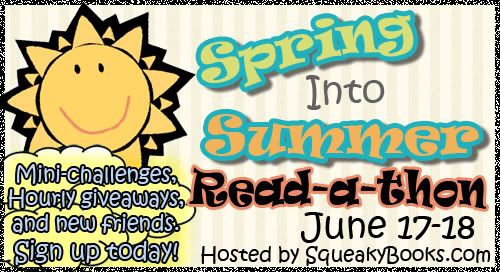 Yes, I am participating in the Spring into Summer Readathon hosted by
Squeaky Books
! As school will have just ended it's a great way to relax and unwind before summer school starts. Plus, there's a $25 Amazon gift card giveaway going on just for entering!
Check out the sign up post here
and sign up yourself- there will be more giveaways of great books and lots of fun for all! Plus, if you say that
Emily @ What Book is That?
sent you, you'll get an extra five entries!
What's on the agenda for everyone else for June? Any fun or exciting things that I should know about?