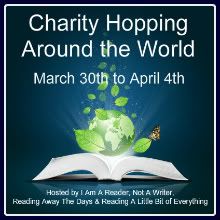 I'm thrilled to be a part of this hop, whose purpose is to call attention to a variety of worthy causes supported by the blogging community! I had such a hard time deciding what charities to focus on, and ultimately I decided on two organizations that are very dear to my heart-
Jumpstart
and
Reading is Fundamental
!
What's so great about Jumpstart and Reading is Fundamental? I'm glad you asked!
From their own
website
, Jumpstart is:
Working toward the day every child in America enters school prepared to succeed
Every child deserves the chance to succeed, yet studies show that children from low-income neighborhoods are at a greater risk of school failure. Jumpstart is a national early education organization that helps these children develop the language and literacy skills they need to be successful in school, setting them on a path to close the achievement gap before it is too late.

Since 1993, Jumpstart has trained nearly 25,000 college students and community volunteers to deliver its program to more than 100,000 preschool children nationwide.
Speaking from my own experience as a Corps Member and Team Leader while I was in college, Jumpstart is a chance for college students to work one on one with preschool children living in low-income communities to improve literacy, social, and school readiness skills. The college students implementing the program benefit as much from the work as the students do- my path of becoming a teacher for young children was cemented while I was working for Jumpstart.
From their
website
:
OUR VISION:
Our vision is a literate America in which all children have access to books and discover the joys and value of reading.
OUR MISSION:
To motivate young children to read by working with them, their parents, and community members to make reading a fun and beneficial part of everyday life. RIF's highest priority is reaching underserved children from birth to age 8.
Reading Is Fundamental (RIF) is the largest children's literacy nonprofit in the United States. We prepare and motivate children to read by delivering free books and literacy resources to those children and families who need them most. We inspire children to be lifelong readers through the power of choice. RIF provides new, free books for children to choose from and make their own. The seeds of inspiration in these books have motivated children to follow their dreams and achieve their potential. Yes, it seems incredible for a book to launch a life, but it happens every day as hungry, inquisitive young minds reach out and grab hold of the new people, places, and ideas that books bring them.
Planting seeds of inspiration in our nation's most vulnerable children is what RIF and a network of more than 400,000 volunteers do. Whether in schools, homeless shelters, or community centers—wherever you find children—RIF volunteers spend countless hours distributing books, staging reading motivation activities, and promoting the importance of literacy in their communities.
From my experience- my first three years of teaching were in a Head Start program where Reading is Fundamental was a partner. Students in my class were always so excited to pick out their book to keep forever and to write their name inside. For many of my students, the books they received from RIF were the only ones they had in the house or that belonged just to them.
*****
GIVEAWAY TIME! In the spirit of the excitement that comes from selecting books of your very own, this giveaway is for a $15 gift certificate to the book vendor of your choice! To enter, just fill out the Google form below. The winner will be notified when the hop ends.
The giveaway ends on April 4th, 2012 at 11:59 pm EST
. Good luck to everyone and enjoy the hop!
Check out the rest of the participating blogs to find out about more charities and discover more awesome giveaways!